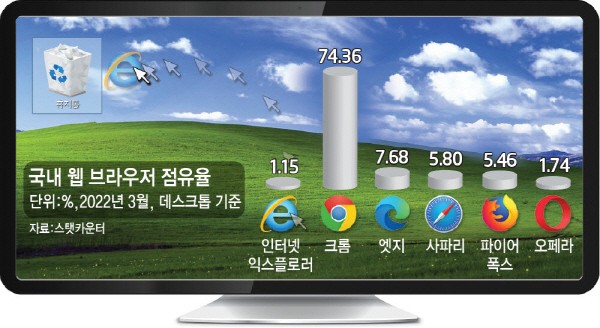 Internet Explorer is coming to an end… You must use the latest web browser
Security Update Done… Extremely Vulnerable to Hacking
Automatic conversion to MS Edge from 15
There will be no problems for general users
The key points are the optimization of financial sites and applications
The official end of support for the Internet Explorer (IE) 11 desktop application is imminent.
After technical support ends, security updates will not be supported and security issues such as hacking may occur. So users should use the latest web browser including MS Edge.
According to MS Korea, IE 11 desktop app will be disabled if any Windows update is performed after 15. When user tries to access it with shortcut icon etc., it will automatically take you to MS Edge .
To access a website that requires IE 11, it must be opened on Edge's "IE mode". To set the IE mode, click on the three-dot menu (…) in the upper right corner of the Edge browser and select "Settings", then select "Default browser" on the settings page and change the option " Allow sites to be reloaded in Internet Explorer mode' on Allow.
After that, if you run MS Edge again, an IE mode button is added on the right side and you will be able to access IE sites if you press the desired site button. There is also a function that automatically registers all IEs when they are connected, but the validity period is 1 month. Support for IE mode in Edge runs until 2029.
"Edge offers a faster, safer and more modern browsing experience than IE," said Sean Lyndersay, Microsoft Edge program manager. "MS Edge is the only browser that offers native compatibility for older IE-based sites and apps."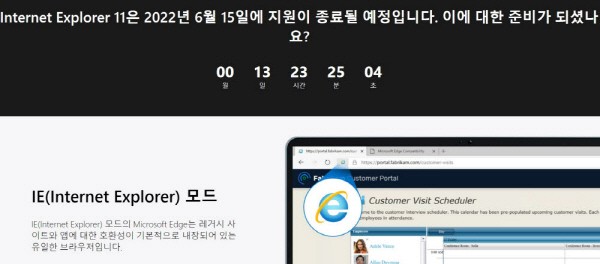 IE, introduced in 1995, once dominated the Internet with over 90% of the web browser market share. It continued its high usage with the fact that it was a Windows bundled program and ease of use.
However, as security issues emerged and competing web browsers such as Google Chrome grew, the market share quickly declined.
According to traffic analysis site StatCounter, in March, IE's share of national web browsers was just 1.15%. Only the desktop PC market was analyzed, and the combined desktop and mobile PC markets accounted for only 0.9%.
MS announced the end of IE support in May last year, pointing out that Edge can support existing websites and applications via the built-in IE mode.
After MS's announcement, public institutions and companies are preparing to react. A compatible program has been developed so that websites or applications optimized for IE can work normally in other browsers such as MS Edge.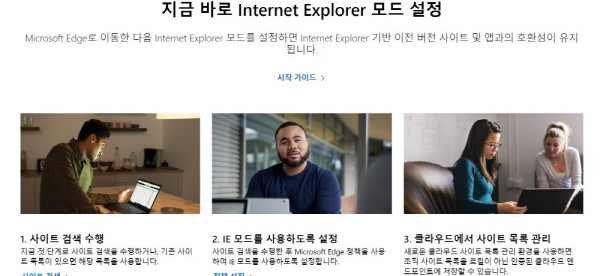 Most institutions and companies have completed the so-called "Edge Response" work. However, some enterprises, such as large-scale financial institutions with different types of applications, have been busy preparing countermeasures for the end of IE until recently.
An executive from a financial solutions development company said, "General users may have no problem using daily services on Edge's IE mode, but there may be restrictions on accessing sites or apps. that companies have optimized for IE."
He went on to say, "It is difficult to develop all the new existing applications, and the development of compatible programs is also time-consuming and expensive," adding, "Some financial companies are still considering how to respond to the end of the IE support.
By Staff Reporter Ho-cheon Ahn [email protected]