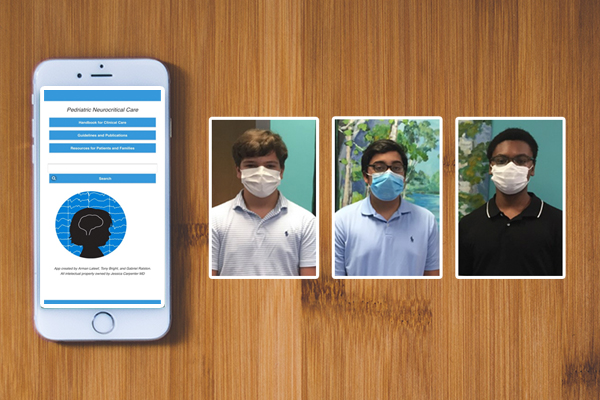 PWCS Students Create Mobile Web Application
[ad_1]
Provided by Prince William County Schools (PWCS)
The challenges of the pandemic inspired the innovation of Tony Bright, Arman Lateef and Gabriel Ralston, all sophomores at Charles J. Colgan Sr. High School. Last spring, just like their peers around the world, they suddenly found each other at home and isolated from their usual routines.
"We had seen in the news that hospitals were overloaded with patients for a variety of reasons, so we thought it would be a good idea to create an app that can help doctors diagnose and treat patients," Bright said.
Working closely with Dr Jessica Carpenter, neurocritical care specialist at the Children's National Health System, the students designed the Pediatric Neurocritical Care app to give physicians access to the latest standard treatments and interventions for children and adolescents in the intensive care unit. The settings.
"Many facilities across the country do not have doctors like Dr. Carpenter to provide this type of super-specialized care," Lateef said. "Working with her to create this app and make that knowledge accessible to healthcare professionals across the country and around the world seemed like a great idea. "
Students at Colgan High School said the app represents what is possible by combining real-world needs with their areas of academic interest.
"Working with computers has always been a hobby of mine, especially programming, which I have been doing since grade five," said Ralston. "This job corresponds to my future interests because I aspire to become a computer scientist or computer engineer one day."
Lateef added, "I am extremely interested in the intersection of healthcare and technology, so I was delighted to give this project a try."
The Pediatric Neurocritical Care app is now available in the App Store and Google Play.
[ad_2]