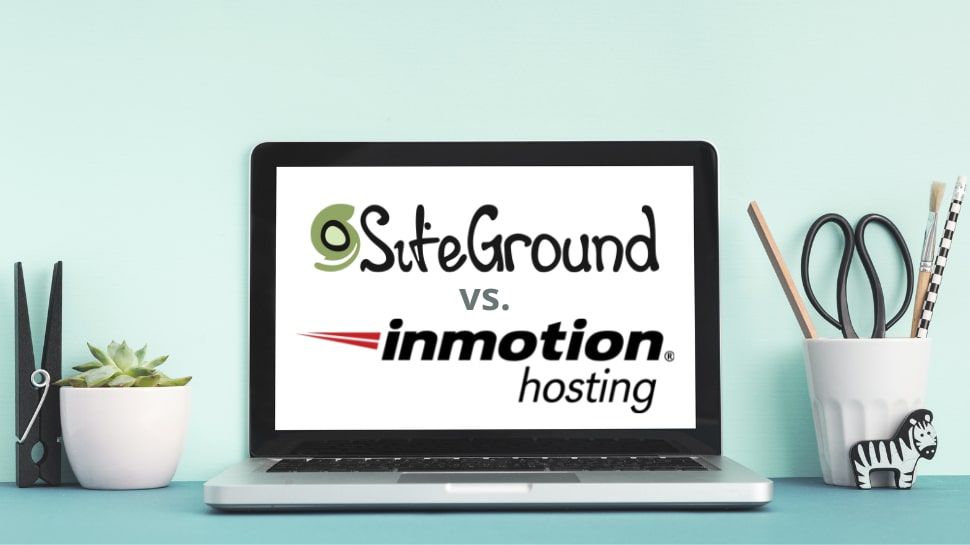 SiteGround vs InMotion Hosting: Which is the Ultimate Web Hosting for You?
If after careful consideration you are left with InMotion Hosting and SiteGround for your web hosting providers, your website is in good hands. The only task is to choose between the two, and it may be more difficult than it seems.
In this article, we will compare your final options to make the decision-making more bearable for you, as both provide outstanding services and receive great reviews from their users. So we went ahead and did some research to help you get through the hunt, and that includes speed, similarities, ease of use, features, server availability and location, security and customer support.
SiteGround vs InMotion: Key Similarities and Differences
Although SiteGround and InMotion are the fiercest competitors when it comes to web hosting, these companies are very different from each other.
If you want to secure a free domain, InMotion will take care of that for you. With SiteGround, on the other hand, you will have to purchase it separately. There's also a notable difference in the money-back guarantee offered by the two companies – 30 days for SiteGround, and three times that if you opt for InMotion.
As for the similarities, both providers will offer you reliable customer service through common channels, give you a free email account, and unlimited bandwidth with their starter shared hosting plans. You will also find cloud hosting and e-commerce hosting offered by both.
Pricing
As a deciding factor, it is important to know how far your budget can take you. Let's take a look at the pricing details of SiteGround and Inmotion.
SiteGround's StartUp plan costs just $4.99 per month. Successive plans with more offers will cost a few dollars more at $7.99 and $14.99 respectively. Not a bad way to start your website at all. InMotion will get your website online for as low as $5.99 per month. Interestingly, the next plan costs the same but has a few more inclusions. The highest tier costs just $14.99 and comes with advanced features.
Given the promotions offered by both (like most web hosting providers), InMotion's pricing is for their two-year term, after which renewal will cost $7.99 per month, while SiteGround will cost you $9.95 per month.
There is no significant difference in their renewal rates, however, as SiteGround is known for its massive discount offers, you will likely get a huge discount when you sign up for an account. It's a tie between them for this round.
Ease of use
Just getting a free domain won't be enough for most, so let's take a look at how easy both are to use.
SiteGround's basic drag-and-drop website builder lets you let your creativity run wild when designing your website. With this, you can customize your website as you wish. InMotion has a WordPress-based builder called BoldGrid, an InMotion-exclusive in-house builder that's as easy to use as SiteGround's base builder. It also allows you to easily create and design your website using tools.
With cPanel being their common ground, it's easy to narrowly differentiate how the two go about creating a friendly atmosphere. InMotion customized it to create improved performance, making it easier to use, while SiteGround added built-in features for more functionality, making it more user-friendly.
As both offer ease of use albeit in different ways, they both possess that trick, no doubt. It will depend on your preferred platform.
Characteristics
WordPress offers superior shared hosting operating power. As a WordPress.org recommended hosting provider, SiteGround's plans include WordPress installation, automatic updates, and WordPress support. Installing the WordPress application on an existing website with SiteGround and InMotion is quite simple.
All SiteGround and InMotion plans include free SSH and SFTP access and free email accounts. As mentioned earlier, you will get a free domain with InMotion, while getting a domain with your SiteGround plan costs extra.
InMotion is generous when it comes to storage, offering 50-200GB of SSD storage, while SiteGround's plans start at 10GB, while their highest tier will only get you 40GB of SSD storage, slightly less than the original. lowest offer from InMotion. When it comes to bandwidth, InMotion's plans all offer "unlimited", but SiteGround is more transparent in that they specify the amount of disk space and an estimate of the number of visitors to your website, which varies from 10,000 to 100,000 visits per month.
With their free domain, larger storage, and unlimited bandwidth that SiteGround fails to provide, we'll have to give InMotion that round.
Speed ​​and availability
High uptime and website speed will keep your visitors from leaving your website, which can be good for your sales. SiteGround is a top web hosting provider with uptime and speed records of 99.99% and 716ms respectively in the last year. The company also has a track record that ranges from 99.98% to 100% over the past few months.
InMotion isn't too far behind with a website load time of 389ms and uptime of 99.91%. InMotion has been constantly upgrading its servers over the past few years, which means it will only get better over the next few years.
Speed ​​is definitely SiteGround's main strength, which means it easily wins this round.
Security
InMotion does not take cyberterrorism lightly. Their DDoS protection comes from their Smartwall Threat Defense System (TDS). For WordPress sites, InMotion provides a free Sucuri Security plugin that detects malware and other risks.
SiteGround, on the other hand, uses an AI-based anti-bot that blocks brute force attempts on all of their servers, thereby protecting your website from cyberattacks. This AI analyzes data from their servers, detects malicious patterns and applies actions.
Both providers take blocking malicious activity and keeping your website secure seriously and have taken extra steps.
InMotion has partnered with DDoS attack protection company Corero for its security offerings, and SiteGround has developed a proprietary tool. So, it's a tie for this round.
Support
As your website goes live, you should be able to receive help whenever you encounter difficulties. InMotion's support team is available 24/7 to answer your questions and provide accurate information. Their support team is friendly, reliable, and provides a smooth resolution to get you back on track.
SiteGround's support team can also be reached by phone, email, and chat 24/7. They are fast, friendly, knowledgeable and experienced. They provide a 90% resolution rate for inquiries. Along with getting help whenever you need it, SiteGround also provides helpful and informative tutorials and guides.
Both are very good at providing their customers with the help they need, so it's another round with a tie.
Verdict
SiteGround and InMotion are close competitors at the top of the web hosting food chain. The key is to look at their most powerful features that your website can definitely benefit from.
SiteGround's performance has been outstanding in terms of uptime, security and support, showing its strengths and ensuring that your website makes you and your visitors happy.
InMotion, on the other hand, has taken over with its more affordable year-round pricing, enhanced security, and standout features while maintaining efficient and fast customer support. InMotion takes the top spot on our list.